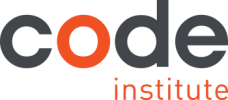 Code Institute
Tech
About
Who We Are
Code Institute is dedicated to bridging the tech skills gap, and the productivity gap between developers and non-technical professionals. Technology has permeated every industry creating a surge for technically skilled staff.
With this in mind, we developed our innovative Diploma in Tech Fundamentals course to complement our Diploma in Software Development. Our goal is to not only to produce career-ready software developers but to train people to work efficiently with developers.
We are dedicated to creating a global standard for technical education.
Our Philosophy
HANDS ON
We focus on practical workshops and projects. The output of each Bootcamp Stream is a project and by graduation – students will have enviable, fully stacked portfolios to dazzle employers with.
SOCIAL DEVELOPMENT
We believe social learning is the best kind. Through our mentoring, in class tutors or even your class network – you'll have a constant source of constructive feedback, tips and tricks.
CONTEXTUALISED CODING
Our project based learning model and collaborative culture assuring students of a practical learning experience.
WE LOVE CODING
We love coding and love teaching it. Our real reward comes from witnessing student eureka! moments as they work through the course.