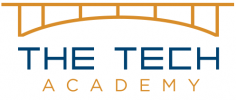 The Tech Academy
Tech
About
WHY ATTEND THE TECH ACADEMY?
The Tech Academy's programming boot camp teaches students several in-demand programming languages. Students learn to code through real-world, hands-on software development training. Tech Academy graduates are well-rounded, full-stack, junior-level software developers that can code on the front-end and back-end.
WHO WE ARE
The Tech Academy is a licensed career school with a program (the Software Developer Boot Camp) that can be taken online from anywhere in the world. Campuses exist in Portland, Oregon and Seattle, Washington. Students can choose from learning coding online, attending in-person coding classes or hybrid training (a combination of learning to code online and in-person). The Tech Academy has students all over the world. Our coding bootcamp is comprehensive with students who learn programing languages and graduates who enjoy a high success rate.
WHAT SETS US APART?
Our entire program is available online with experienced Instructors available to help.
We allow students to choose their own study schedule.
We offer job placement training and assistance to our graduates – with an over 90% placement rate of graduates.
Students can study online, attend in-person at one of our campuses, or partake in hybrid training (online and in-person).
Our program is self-paced, which means students can move through the boot camp at their own speed.
Most Tech Academy graduates make an average of $30 an hour.
No technical background or experience is required.
We take a "bottom up" approach – starting with the most basic data first and advancing from there.
We have a very thorough curriculum that covers several in-demand programming languages to ensure graduates have a large skillset.
There are no set start dates or cohorts – we offer open enrollment so students can start at any time.